Create stunning jewelry for yourself or to give as gifts!
Insert your own creative style into your jewelry! Styles and colors of materials may vary. Base materials are used for all projects, not precious metals. All supplies will be provided and jewelry making technigquies will be taught in each class.
Two classes offered this summer: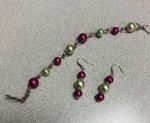 Create a fancy set of earrings with a matching bracelet using glass beads. Basic beading and crimping techniques will be taught.
---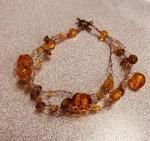 All techniques to create this beautiful piece will be taught step by step. Basic earrings will be added if time permits.